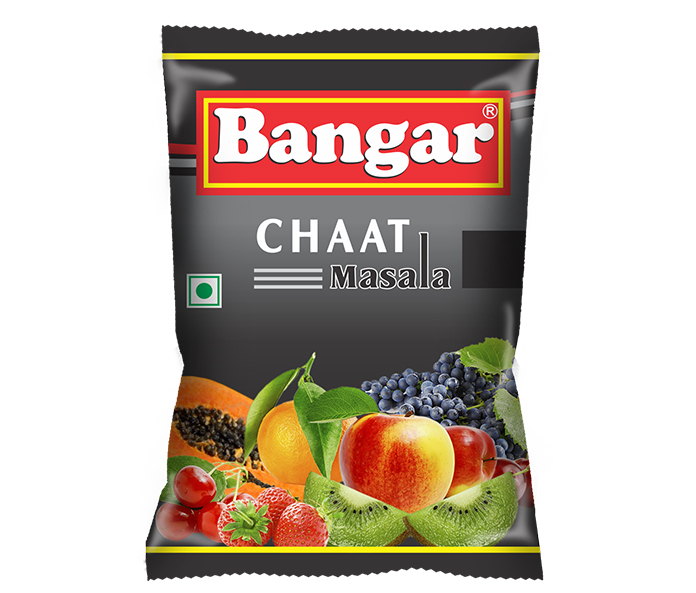 Chaat Masala is a spice mix having sweet and sour taste. It gives that tangy taste to salads, sandwiches, fresh fruits, finger chips fast food snacks etc. Bangar Chaat Masala is a perfect racy blend having finest combination spices to give a sweet, sour and tangy taste. Just sprinkle and enjoy the finger licking exciting taste.
USAGE :
To sprinkle on Salads, Sandwiches, fresh frits, finger chips, dahi wada, wafers, and fast food snacks.
Ingredients :
Coriander,Cumin,Nutmeg,Kachri,Mint leaf,Pepper long, Pomegranate seeds, Black Salt, Rock Salt, Malic Acid, Dry Ginger, Dry Mango, Black Pepper, Asafoetida, Bishops weed, Caraway, Clove & Chilli.
Receipe : Cut and and peel 4 potatoes into thick fingers. Heat oil on medium flame and deep fry the potato fingers till they are golden brown and cooked. Drain on absorbent paper. Add the potatoes to 2 finely chopped green chillies and coriander, add 1 tbsp Bangar Chaat Masala, mix well and keep aside. Head 2 tbsp mustard oil in a pan add a pinch of asafoetida and stir for 10 sec. add 1 cup chopped capsicum and saute for 2-3 min. add the potato mixture and toss gently for 2-3 minutes. Serve hot.
PACKING :
| Pack size | Pack Type | Pkts in carton | Net Weight |
| --- | --- | --- | --- |
| 15 grams | Box | 300 | 4.500 Kg. |
| 50 grams | Box | 120 | 6 Kg. |
| 100 grams | Box | 120 | 12 Kg. |